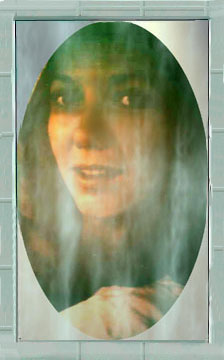 We are pleased to be able to offer you our CD drama, PRINCESS CALIATRA. This is a 58 minute epic drama set to a
scintillating musical score that continually surprises and delights you as Caliatra goes from the sorcerer's slave to true freedom.
This CD is filled with great sound effects, and excellent acting. Listen as Natase's evil army approaches; Caliatra receives the
silver music box, duels the crafty sorceress Rafaena and is drawn to love the great King Jeshur. It is all that you could desire
and more. Earthquakes, thunders, tender moments, evil seductions and the ultimate triumph of light are all expressed in music and
dialogue. Open up your ears and your heart to experience the beauty of our drama, PRINCESS CALIATRA.


THE PREFACE
Through the mist the sun shone furtively on the valley of Craven. It was the home of the wicked sorcerer Natase whose evil eye
swept over all that he conquered. In former times Cravan had been called Baraca, a beautiful land of blessing. The King and
Queen of that land had ruled with fairness and virtue and were greatly loved by their subjects.
However, on a dark and cloudy day, an assassin visiting the court as an emmisary of Natase, murdered the King and Queen while
they slept. No one knew who committed the crime. Natase's emmissaries began to accuse different leaders so that everyone
grew suspicious. Civil war followed shortly. In the middle of the war, Natase offered help to one of the factions led by Duke
Ramaon. With each ensuing victory the deep mist crept steadily over the land. Creatures appeared that had never been seen in
Baraca. A huge winged beast flew over the battlefields terrifying the enemies of Natase and Ramaon.
When victory was won, Natase turned on his allies, accusing one to the other, thus by lies and deception, he enslaved them. He
spared only one of the royal household, a two year old PRINCESS CALIATRA.
and here our drama begins..........


Below are some sample tracks from our CD. You will need REALPLAYER to play our SAMPLES.
Download it
---
Drama Selections
---
1.
I Long for Him
The Theme from Caliatra.
2.
Natase
He is the evil sorcerer, and the music suggests who he is.
3.
Baraca - The land of Blessing
In a dream, the princess is caught up out of time in the Land of Blessing with her King Jeshur.
4.
Farewell to Illusion
The lament of Duke Ramaon. Caliatra must leave her home and and face her uncertain future.
5.
Hour of Darkness and Flight (medley)
The flight of the Princess as she is persued by the evil forces of Natase.
6.
Sintar
The handsome, wicked prince comes for Caliatra.
7.
Rafaena
The witch, Rafaena, attempts to overwhelm and captivate Caliatra.

The playing time of the complete CD is 59:40
---




CAST OF CHARACTERS

CALIATRA.......Gloriana Minden
DUKE RAMAON......John Grant
JESHUR....................Tom Baker
RAFAENA.................Mary Smith
SINTAR...................Dan Mayhew
WARRIOR...........Dwayne Driver
NATASE...........Charles E. Smith
OVERSEERS...................................Abe Smith, Dan Mayhew, Charles E. Smith
OTHERS IN BACKGROUND.....Carmel Carrasco, Jake Minden, Esther Smith

NARRATOR---Charles E. Smith


MUSICAL CONTRIBUTIONS

Guitar on DECEPTION.............................................Abe Smith
Bells on RAFAENA...............................................Esther Smith
Vocal on RAFAENA, Scraper on RETURN..........Mary Smith
Soprano Sax and Recorder...........................Charles E. Smith
Engineering and technical assistance.......Michael Valentine

Recorded and Produced by Charles Ellsworth Smith

All music played, composed and produced by Charles Ellsworth Smith
All music is Copyright (c) 1997 Charles E. & Mary A. Smith, all rights reserved.
---
The Story of Princess Caliatra is available as a book in PDF format and as an audio reading by John Grant.

The instrumental score can be heard by going to the The Princess Caliatra Suite.

---